July 30, 2014
Welcome Our New Planetarium Director, Dr. Wayne Schlingman.
Image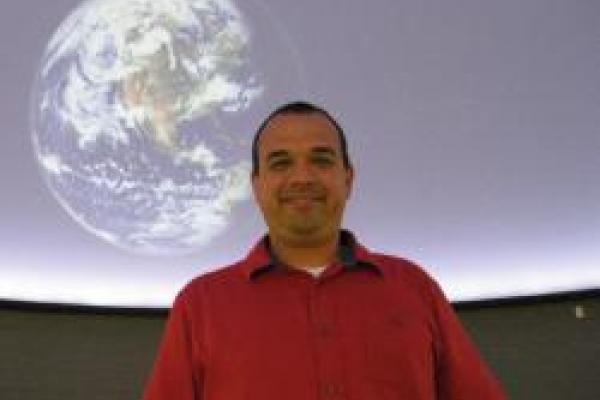 Description
Wayne M. Schlingman, the new director of the Ohio State Planetarium, has a room with an enviable view with seats he will never have trouble filling. And he's ready to start taking people out of this world.
The Ohio State Planetarium has a long legacy of educating Ohio State students and the public. When it reopened last fall after a complete dome-to-floor renovation that included installation of the latest in planetarium technology, it became not only a true campus gem, but one of its most popular spots.
Prior to its public grand re-opening on International Astronomy Day, Saturday, Oct. 12, 2013, enthusiastic throngs had booked seats weeks in advance. Traffic has yet to slow down and little wonder—it is the best free show in town—maybe anywhere!
"I am excited to begin a new journey as the planetarium director," Schlingman said. "The past eight months since the renovation have shown the incredible value of being able to use an immersive, full-dome theater for public outreach and classroom exploration. Seeing the annual attendance explode more than 10 times that of previous years is a great way to kick off the new facility and to show how great the need is for it. I look forward to continuing to grow annual attendance."
Schlingman, who received his PhD from the University of Arizona-Steward Observatory in 2012 in Astronomy & Astronomy Education, worked at the Center for Astronomy Education (CAE) researching the teaching and learning of general astronomy education. His areas of expertise are astronomy education and outreach, and radio astronomy and star formation in the Milky Way.
After receiving his PhD, Schlingman went to the University of Colorado-Boulder as a science teaching fellow where he worked with the non-science major introductory astronomy classes, creating and adapting activities for in-class recitations.
Additionally, he worked with the staff and students of the newly remodeled Fiske Planetarium where he encouraged the use of active-engagement, learner-centered instructional strategies in public talks. He has extensive experience in public outreach activities and initiatives.
At Ohio State, Schlingman will be working with faculty and students across many departments to utilize fully the exciting technology available in the full-dome theater.  
"I am eager to forge new collaborations with other departments on campus and facilitate faculty use of the new technology in their classes," Schlingman said.
"Also, I am thrilled to be able to bring science to the public on such an expanded scale. The Planetarium's new capability allows us to reach thousands of students and members of the public. I am so grateful to all of the faculty, students and staff members who have worked tirelessly to get the Ohio State Planetarium to where it is today. I look forward to us being able to continue to develop this unique campus resource and maximize its impact on campus and beyond."
"Schlingman takes the reins from Catherine Grier, the outgoing Planetarium director, who did a wonderful job of getting everything up and running this past year," Jennifer Johnson, associate professor, astronomy, said. Grier, who received her PhD from Ohio State, has accepted a postdoctoral research position at Penn State.
[Original Text by Sandi Rutkowski, OSU Arts & Sciences College]
---